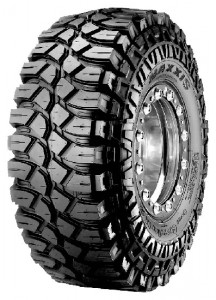 Ultimate extreme off road tyre.
Immensely strong bias ply construction – built to withstand the harshest rocky terrain and forest trails. High puncture resistance.
Enhanced traction on rocky surfaces – unique tread design for added traction and steering capability on hard surfaces.
Extra grip in mud & snow conditions – chunky wrap around shoulder blocks add extra traction and sidewall protection.
Extremely tough tyre – but still fine for highway use.
| M8090 | Ply Rating | X-Ply | Load/Speed Rating | OD (mm) | Section Width (mm) | Rim Width (mm) | Max Load (kg) |
| --- | --- | --- | --- | --- | --- | --- | --- |
| 35×12.50-15 | 6PR | X-Ply | 113L | 889 | 343 | 10.0 | 1150 |
| 37×12.50-15 | 8PR | X-Ply | 117L | 942 | 338 | 10.0 | 1285 |
| 37×14.50-15 | 8PR | X-Ply | 127L | 942 | 389 | 12.0 | 1750 |
| 7.00-16 | 8PR | X-Ply | 109L | 787 | 216 | 5.5 | 1030 |
| 35×12.50-16 | 6PR | X-Ply | 112L | 889 | 333 | 10.0 | 1120 |
| 37×12.50-16 | 8PR | X-Ply | 124L | 935 | 340 | 10.0 | 1600 |