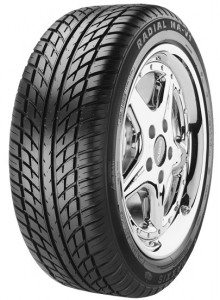 High speed ratings, long life and low noise levels – this is simply a top line all-round high performance tyre.
Outstanding highway performance – the MA-V1 delivers excellent cornering, acceleration and handling in all road conditions.
Superior traction – the attractive directional tread pattern and specially formulated tread compound ensure superior water dispersion on wet roads and great all-season traction.
| Sie | Load/ | OD | Section Width (mm) | Rim Width (Inches) |
| --- | --- | --- | --- | --- |
| 185/55R14 | 80V | 556 | 196 | 6.0 |
| 195/50R15 | 82V | 579 | 196 | 6.0 |
| 205/50R15 | 86V | 587 | 213 | 6.5 |
| 195/50R16 | 84V | 605 | 196 | 6.0 |
| 205/50R16 | 88V | 612 | 214 | 6.5 |
| 225/50R16 | 92V | 635 | 234 | 7.0 |
| 205/45R16 | 87W | 589 | 206 | 7.0 |
| 225/55R17 | 98W | 681 | 231 | 7.0 |
| 215/50R17 | 91W | 645 | 224 | 7.0 |
| 205/45R17 | 84W | 612 | 206 | 7.0 |
| 215/45R17 | 91W | 625 | 213 | 7.0 |
| 225/45R17 | 94W | 635 | 221 | 7.5 |
| 235/45R17 | 97W | 643 | 236 | 8.0 |
| 245/45R17 | 95W | 648 | 241 | 8.0 |
| 205/40R17 | 86W | 594 | 213 | 7.5 |
| 215/40R17 | 87W | 602 | 221 | 7.5 |
| 225/45R18 | 91W | 663 | 221 | 7.5 |
| 225/40R18 | 92W | 633 | 231 | 8.0 |
| 235/40R18 | 95W | 643 | 241 | 8.5 |
| 245/40R18 | 97W | 655 | 249 | 8.5 |