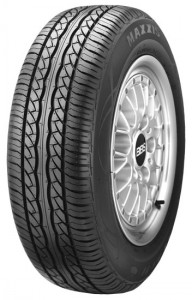 Available in a large range of tyres to suit business and family vehicles, the MA-P1 combines all weather high performance with outstanding ride comfort, extended tread life and whisper quiet running.
Superb handling and control – superior water dispersion and wet road traction, along with outstanding steering response and handling stability ensure superb control in all road conditions.
Outstanding ride comfort and refinement – designed as a premium passenger car tyre, the MA-P1 offers a refined, comfortable and quiet ride.
Long wearing – treadwear rating 440 (60/65/70 series) & 380 (55 series).
| Size | Load/Speed | OD (mm) | Section Width (mm) | Rim Width (Inches) |
| --- | --- | --- | --- | --- |
| 175/70R13 | 82H | 577 | 178 | 5.0 |
| 185/70R13 | 86H | 589 | 191 | 5.5 |
| 155/65R13 | 73T | 531 | 152 | 4.5 |
| 165/65R13 | 77H | 544 | 168 | 5.0 |
| 165/70R14 | 81H | 587 | 168 | 5.0 |
| 175/70R14 | 84H | 602 | 175 | 5.0 |
| 185/70R14 | 88H | 617 | 191 | 5.5 |
| 195/70R14 | 91H | 630 | 203 | 6.0 |
| 205/70R14 | 95H | 645 | 211 | 6.0 |
| 165/65R14 | 79H | 569 | 168 | 5.0 |
| 175/65R14 | 82H | 584 | 178 | 5.0 |
| 185/65R14 | 86H | 597 | 188 | 5.5 |
| 195/65R14 | 89H | 610 | 203 | 6.0 |
| 165/60R14 | 75H | 554 | 170 | 5.0 |
| 185/60R14 | 82H | 579 | 185 | 5.5 |
| 195/60R14 | 86H | 589 | 198 | 6.0 |
| 205/70R15 | 96H | 668 | 213 | 6.0 |
| 215/70R15 | 98H | 683 | 224 | 6.5 |
| 145/65R15 | 72T | 572 | 145 | 4.5 |
| 165/65R15 | 81T | 597 | 170 | 5.0 |
| 175/65R15 | 88T | 610 | 178 | 5.0 |
| 185/65R15 | 88H | 620 | 188 | 5.5 |
| 195/65R15 | 91H | 635 | 203 | 6.0 |
| 205/65R15 | 95H | 648 | 206 | 6.0 |
| 215/65R15 | 96H | 663 | 221 | 6.5 |
| 185/60R15 | 88H | 602 | 185 | 5.5 |
| 195/60R15 | 88H | 615 | 198 | 6.0 |
| 205/60R15 | 91H | 630 | 208 | 6.0 |
| 215/60R15 | 94H | 640 | 224 | 6.5 |
| 225/60R15 | 96V | 650 | 226 | 6.5 |
| 185/55R15 | 82V | 587 | 193 | 6.0 |
| 195/55R15 | 85V | 597 | 196 | 6.0 |
| 205/55R15 | 88V | 607 | 213 | 6.5 |
| 215/65R16 | 98H | 688 | 221 | 6.5 |
| 205/60R16 | 96V | 655 | 206 | 6.0 |
| 215/60R16 | 99H | 663 | 221 | 6.5 |
| 225/60R16 | 98H | 678 | 226 | 6.5 |
| 235/60R16 | 100H | 688 | 241 | 7.0 |
| 195/55R16 | 87V | 620 | 198 | 6.0 |
| 205/55R16 | 91V | 635 | 211 | 6.5 |
| 215/55R16 | 93V | 640 | 226 | 7.0 |
| 225/55R16 | 95V | 655 | 231 | 7.0 |
| 215/55R17 | 94V | 671 | 224 | 7.0 |
| 235/55R17 | 103H | 691 | 241 | 7.5 |