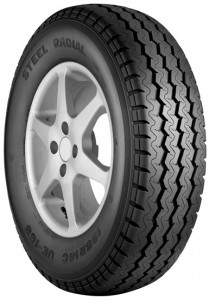 Premium quality commercial grade tyre for reliability and performance under heavy load applications.
Superior strength – extra heavy duty construction with heavy shoulders, additional plies and extra strong sidewalls ensure long wear and huge load-carrying capacity.
Outstanding damage resistance – full nylon cap and premium rubber compound ensure excellence resistant to cuts, punctures and abrasions in rough road conditions.
Reliable highway performance – rib-type tread design with deep shoulder grooves provides all-season highway capability and a smooth ride. Advanced tyre construction ensures confident handling and stability in the most demanding of commercial applications.
| Size | Ply Rating | Load/Speed | OD (mm) | Section Width (mm) | Rim Width (Inches) | Max Load (kg) |
| --- | --- | --- | --- | --- | --- | --- |
| 155R12C | 8PR | 88/86N | 556 | 152 | 4.0 | 560 |
| 155 R13C | 8PR | 91/89N | 582 | 155 | 4.5 | 615 |
| 165 R13C | 8PR | 94/92R | 598 | 165 | 4.5 | 670 |
| 175 R13C | 8PR | 97/95N | 612 | 175 | 5.0 | 730 |
| 185 R13C* | 8PR | 100/98N | 627 | 188 | 5.5 | 800 |
| 165 R14C | 8PR | 97/95N | 623 | 165 | 4.5 | 730 |
| 175 R14C | 8PR | 99/98N | 637 | 175 | 5.0 | 775 |
| 185 R14C | 8PR | 102/100R | 652 | 185 | 5.5 | 850 |
| 195 R14C | 8PR | 106/104R | 668 | 200 | 5.5 | 950 |
| 185 R15C | 8PR | 103/102Q | 676 | 191 | 5.5 | 875 |
| 195 R15C | 8PR | 106/104R | 693 | 198 | 5.5 | 950 |
| 215/70 R15C | 8PR | 109/107Q | 683 | 216 | 6.5 | 1030 |
| 225/70 R15C | 8PR | 112/110R | 696 | 231 | 6.5 | 1120 |
| 185/75 R16C | 8PR | 104/102R | 686 | 188 | 5.0 | 900 |
| 195/75R16C | 8PR | 107/105R | 699 | 201 | 5.5 | 975 |
| 205/75 R16C | 8PR | 110/108Q | 714 | 206 | 5.5 | 1060 |
| 215/75 R16C | 8PR | 113/111R | 729 | 224 | 6.0 | 1150 |
| 225/75R16C | 10PR | 115/112Q | 744 | 226 | 6.0 | 1215 |
| *Denotes UE100 Pattern | | | | | | |